Tennessee Performing Arts Center Information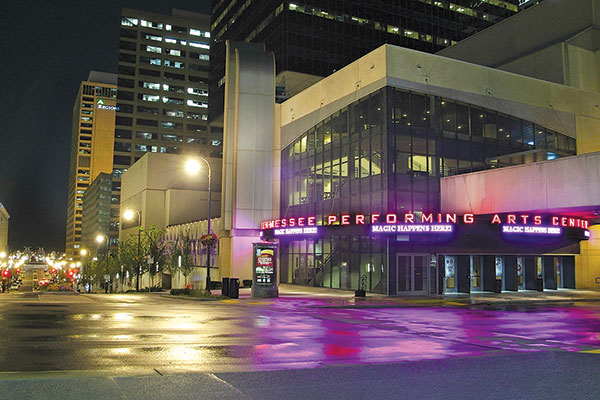 The Tennessee Performing Arts Center was initially planned, when private citizens, led by Martha Ingram, proposed the idea of TPAC to the state legislature in 1972. Ingram had been appointed to the advisory board of the Kennedy Center for the Performing Arts in Washington, D.C. and she used that experience to develop and propose a plan for TPAC in her home city of Nashville. While the plan met initial resistance, private fund-raising efforts established an endowment, which allowed the center to be built with the James K. Polk State Office Building and the Tennessee State Museum. This endowment surpassed its goal of $3.5 million by over 142% with a final endowment total of $5 million. These days, the endowment has grown to $20 million.
Three theaters, each named after US Presidents that have come from Tennessee, make up the Tennessee Performing Arts Center. These theaters range from the famous Andrew Jackson Hall with a seating capacity of 2,472, the James K Polk Theater with a capacity of 1,075, and the Andrew Johnson Theater with a humble capacity of 256. Each of these halls and theaters has been named after the three US Presidents who have come from Tennessee. TPAC also administers the War Memorial Auditorium, which has configurable seating that allows 400 capacity for orchestra level performances in a banquet formation to 1,661 capacity in the theatrical configuration.
But let's talk about these incredible theaters so you know what to expect.
Andrew Jackson Hall
The Andrew Jackson Hall, the largest of TPAC's multi-purpose theaters includes 47 pit seats. The stage is over 130 feet wide by 53 feet deep. The stage is designed to accommodate up to 112 performers with 14 dressing rooms, a star suite, and two onstage quick change rooms, as well as high-capacity choral spaces. The wings, fly space, riggings, and catwalks have been designed for every kind of production from Broadway tours to television specials, and major concerts.
James K Polk Theater
The James K Polk theater includes 44 pit seats and is over 87 feet by 50 feet in size. The theater offers spacious wings and fly space and room enough for 86 performers in 10 dressing rooms. It also offers a quick change room and two high-capacity choral spaces.
Andrew Johnson Theater
The Andrew Johnson Theater may be the smallest of TPAC's theaters, but it's designed for adventurous and experimental entertainment. The 59 by 54 feet stage is surrounded on three sides with banks of theater seating, with up to 256 configurable seats. The stage and its two dressing rooms are ready to accommodate up to 24 performers. This theater is most commonly used for live theater and more small-scale and intimate performances, as well as acoustic concerts, live readings, lectures, and video shoots.
Finally, The War Memorial Auditorium is a theater that can be configured for orchestra performances as well as theatrical productions. It has a crescent-shaped stage with a size over 65 by 33 feet. The theater's acoustics have made it the venue of choice for recording several live albums. The facility offers multi-purpose space that has been used for theatrical, cabaret, banquet seating, and even open floor orchestra configurations.
Before TPAC opened in 1980, the state legislature created the TPAC Management Corporation to oversee the public-private partnership and provide affordable performance spaces for artistic companies. It also offered educational experiences in the performance arts for Tennessee's school-age children.
During TPAC's first year of existence in 1980-81, TPAC had presented nearly 120 performances with 84,000 attendees. The center was later strengthened by the traditions of their first two resident companies; The Nashville Symphony and The Circle Players. The Nashville Opera, The Nashville Repertory Theater, and the Nashville Ballet later became resident companies within the next five years.
In 1983, TPAC later established Humanities Outreach in Tennessee (HOT) to serve as a nationwide model for arts education programs. HOT has served children in the state's 95 counties and earned themselves the Governor's Award for Artistic Excellence in 1984.
The achievements of TPAC continued during its existence, such as in 2000 when TPAC had an operational merger with the Nashville Institute for the Arts. This merger expanded TPAC's arts education programs adding ArtSmart as a program to provide teaching artists to local schools; Wolf Trap Early Learning Through the Arts for pre-school children; the TPAC Summer Institute as a training program for Teachers; TPAC InsideOut to enrich the theater-going experience for adults; Disney Musicals in Schools, a program designed to create sustainable theater programs in disadvantaged schools, and the National High School Musical Theater Awards or Spotlight Awards.
All of these programs further TPAC's goals of supporting Art and Arts Education across the country and arguably across the world.
For these reasons, and more, TPAC has become a major market for Broadway Tours. It presents a variety of special events and performances across their three theaters, including music, comedy, dance, and more. Nashville Ballet, Nashville Opera, and Nashville Repertory Theatre remain in-residence companies following the 2004 departure of Circle Players and the 2006 construction of a permanent hall and home for the Nashville Symphony.
This incredible venue can be found on Deaderick Street, right around the corner from some of Nashville's most important government offices and the University of Tennessee.
For further information on Tennessee Performing Arts Center (TPAC) please read the following pages:
Tennessee Performing Arts Center Parking:
Read all available parking options at the Tennessee Performing Arts Center.
Ticket Policies:
Find out more about our ticket guarantee and other ticket policies.
Tennessee Performing Arts Center Seating Chart:
View the main seating configuration for the Tennessee Performing Arts Center events and find out more about accessible seating.